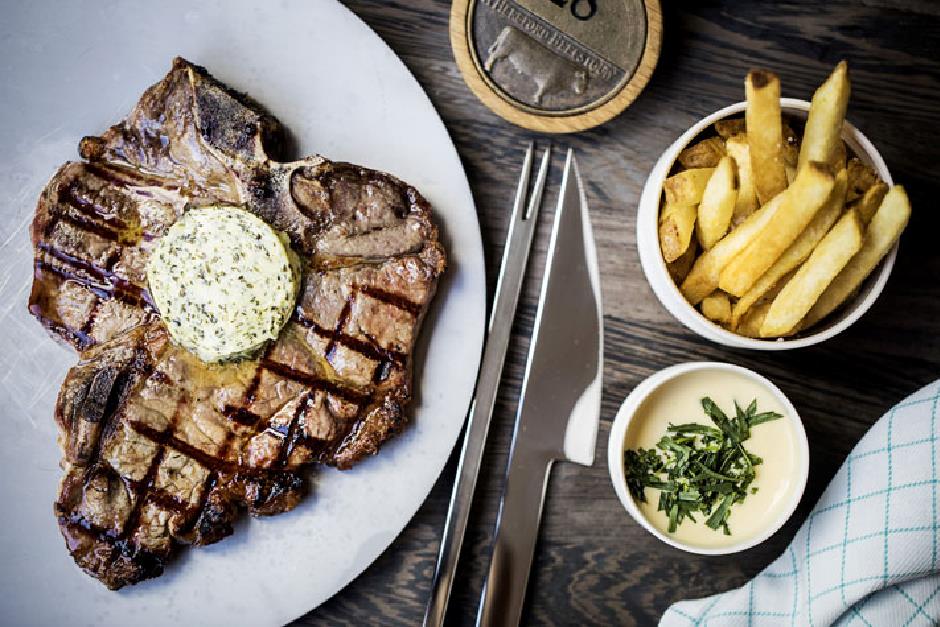 Certified Grass fed Beef

Chefs and farmers know that happy, healthy animals taste better, which is why we use Pinnacle Certified Grassfed Beef. Sourced only from the Top 4% of MSA Graded Cattle in Australia, Pinnacle Beef is 100% Grass Fed, Marble Score 2+, Free Range, No Hormones and Antibiotic Free - GUARANTEED.
EYE FILLET
160g 38
250g 47
The most tender cut of beef available.

CHATEAUBRIAND (EYE FILLET)
500g 92
Carved at your table, and is enough for 2 people. (Please allow 30 minutes cooking time.)

SIRLOIN
250g 37
400g 42
Fine grained, low in fat, the Sirloin is a tender steak with good flavour intensity.

RIBEYE
300g 45
Very flavoursome, juicy and tender cut from the upper rib cage between ribs 6-12.

T-BONE
500g 55
The best of both worlds. Eye Fillet and Sirloin in the one steak.

HANGER STEAK
300g 35
Hangs (hence the name) between the rib and the loin. This lesser known steak has long been prized by butchers for its full flavour and richness.

---
Dry Aged Beef
Sourced from Hereford cattle from our own farm, along with other British breeds of cattle from the lush pastures of Victoria and South Australia. We hang and dry age the beef in our purpose built facility in the Adelaide Hills for a minimum of 45 days, before butchering in-house. The result is the ultimate expression of beef in terms of flavour and tenderness.

*Please note, Dry Aged Beef does not benefit from cooking past medium.
45 Day Dry Aged Beef

CÔTE DE BOEUF
(Ribeye on the Bone)
500g 58
700g 80
The 700g steak is carved at your table, and is enough for 2 people. (Please allow 30 minutes cooking time).

NEW YORK SIRLOIN
(Sirloin on the Bone)
400g 49
RUMP STEAK
350g 38
The most flavoursome cut of steak. Coupled with the tenderising effect of dry ageing makes this our go-to steak.
---

Extreme Beef

100 DAY DRY AGED CÔTE DE BOEUF
(Ribeye on the Bone), 500g 90
Experience the effects of Dry Ageing when taken out to an incredible 100 days. The flavours created when aged for this length of time are unlike any other, with extreme flavour intensity and tenderness.

45 DAY DRY AGED TOMAHAWK
Tomahawks range between 1.0 to 2.0kg
Price charged on weight ($10 per 100g) ***
MARBLE SCORE 4+ GRASSFED SIRLOIN STEAK
400g 65
This wonder from Little Joe is at the global summit of grassfed beef quality.
Marble score 4+ from grassfed beef has previously been unheard of. A must try.

All Extreme Beef steaks come with House Made Chips and Your Choice of Sauce.
---
---
Dry Aged Mutton

Dry Aged Saltbush Mutton loin
300g 35
We have developed this world first product - dry aged mutton. Sourced from Dorper sheep grazed on saltbush in the pastoral regions of South Australia, we dry age it for 30 days. The result is a super tender piece of meat, packed with flavour. It's everything you love about lamb, but tastes nothing like the mutton horror stories your parents may have mentioned.

---
Ribs

BEEF SHORT RIBS (10 Hour Slow Cooked)
1 Rib Rack 27
2 Rib Racks 39
Served with our delicious house made sauce.

---
Ocean

BARRAMUNDI FILLET
Wild Australian Barramundi Fillet. Oven baked 37


---